I like Dragon Age 2 more than
Skyrim
. It has something that Skyrim doesn't. Something that makes all the difference in a role playing game.
What is it? What makes Dragon Age 2 better than Skyrim?
We'll get there soon enough, but first let's start with some numbers shall we? People like numbers.
Skyrim is listed on
Metacritic
as having a score of 96 out of 100 based on critic reviews and an 8.4 based on user reviews. Overall outstanding scores for a game.
Dragon Age 2 in contrast scored a 79 out of 100 by critics and only a mere 4.4 from users. I guess gamers didn't like it that much.
Skyrim boasts an outrageously expansive open world with hundreds of hours of gameplay.
Dragon Age 2 is crippled by copy paste environment design, a restrictive, semi-open world, and has comparably less content.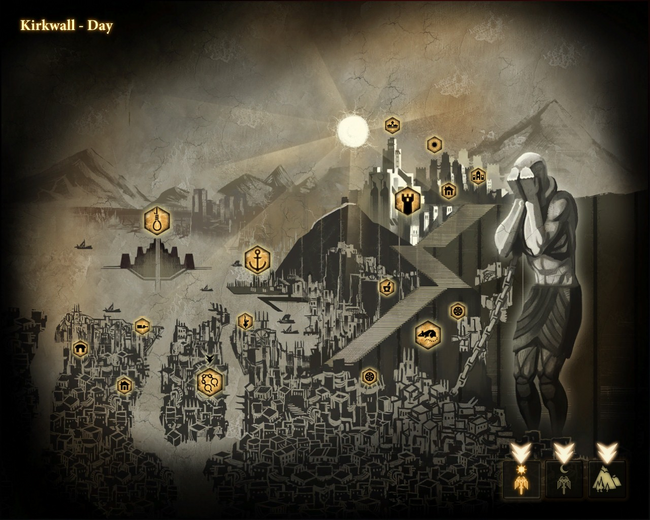 There is Kirkwall Day and Kirkwall night; an excuse to reuse environments....
Skyrim puts the fate of the entire world in your hands, tasking you with defeating the World Eater Dragon who is about to bring on the world's end. That's a lot of responsibility.
Dragon Age 2 conversely puts the fate of the city of Kirkwall more or less in your hands. The stakes aren't quite as high.
Skyrim lets you be whoever you want, be it orc, human, argonian, etc. While Dragon Age 2 forces you to be a human, choosing one of three classes; rogue, warrior, or mage. Skyrim doesn't shoehorn you down such restrictive playstyles.
There's an incredible potential for epic or hilarious things to happen in the world of Skyrim, from unscripted dragon encounters to being able to interact with (or assault) anyone in the game (excluding children).
Nevermind the fact that you use the force to move objects.
Dragon Age 2 has no unscripted dragons or silly inhabitants you can easily mess with using the game's physics engine. You can only attack those the game designates as enemies as well. Most of the people in
Dragon Age 2 are just there for show, to make the world seem populated.
So why then, in light of all that, do I say I like Dragon Age 2 better than Skyrim?
Am I just trying to troll you guys?
Nope. I'm serious.
Skyrim is an awesome game. I had a crapton on fun playing it. I liked it so much I even wrote a story of my life in Skyrim, and my moral decline,
here
. Give that a read if you've got time.
Skyrim is definitely worthy of the praise that's been given to it, but there's one big thing that leads me to prefer Dragon Age 2 over Skyrim.
Pacing.
Just kidding. While Dragon Age 2 is a very kinetic and fast paced game compared to Skyrim's grudgingly slow pace that pervades almost all of its aspects, this isn't the game changer so to speak.
The one element that makes Dragon Age 2 shine for me that Skyrim hardly has any hint of is emotion.
Emotion.
Dragon Age 2 has gallons of it.
Skyrim hardly has an eyedropper of it.
The most impactful and memorable game experiences come from games that stir something inside you, make you feel more than just the unexplainable craving for more XP. When games can make an emotional connection with you is when they've done their job right. Skyrim is an amazing game! But it lacks any emotional connections with the player! Dragon Age 2 felt like it was rushed, but it makes emotional connections in so many ways!
The Darkness
is one of my favorite games, not due to its gameplay, but because its story was so wrought with emotion and feeling.
Who are you going to remember more fondly? Someone you shared an emotional connection with? Or someone you got drunk and had a good time with a few times? Memories of the latter will quickly fade.
What Bioware manages to do in Dragon Age 2 (and most of their other games), despite the game's technical shortcomings is tell a compelling story that draws you in and really makes you care about the world you're exploring and care for the other characters in the game.
When I played through Skyrim I couldn't really care less about the political scene or the civil war. It didn't affect me. It never affected me. I never chose sides or got involved. I just didn't care. That might have been different for you or your friends, but I really just couldn't be bothered to care about what was going on in the land of Skyrim other than what would net me some more gold and some cool items.
On the other hand, Dragon Age 2 pulls you into the world's problems and makes them your own, makes you care about the turmoil happening in the city of Kirkwall. I really cared about and was interested in what was going on in Kirkwall in my time spent playing Dragon Age 2.
But the biggest thing for me was how much I grew to care for the other Characters in Dragon Age 2. I cared (for the most part) about their problems and troubles. I developed friendships and relationships with them.
I was sad and angry when characters I grew to care about in Dragon Age 2 died or left me.
In Skyrim I only ever had two companions. Both of them ended up dying while in my service. "Well shoot."
*poke poke* "Lydia?" Well, better take the good stuff she was carrying for me...
I was only sad about it because they were carrying all the stuff that I couldn't fit in my inventory. That was the pinnacle of any feelings I felt toward any of the characters in Skyrim.
Skyrim never makes you care about anything, or get involved with any other characters in a meaningful way.
The most emotion you'll find in Skyrim is a few "Oh shit!" moments now and then when a dragon snatches a mammoth or something startles you. But a few "Oh Shit!" moments don't count as emotion.
Dragon Age 2 gave me a family, it gave me friends, and above all it made me care about them like they were real people.
If you want to, you can think of Skyrim as being a one night stand type of experience. It's a lot of fun, but in the end there aren't any emotions involved and it's all about what's in it for you. It's not going to leave a lasting impression on you.
Ok, well that might leave an impression.....



Dragon Age 2 is like being with someone you care about. You're going to make an emotional connection and care about more than just what's in it for you.
Ok that analogy was really weird...
Moving on.
So despite of all its criticisms I am a huge fan of Dragon Age 2. Its capacity for stirring emotions in you and its storytelling are what make it a game worth playing.
If you haven't played Dragon Age 2 yet it's worth your time, though I'd suggest playing the first in the series before trying DA2.
If you haven't already, I hope one day you'll be emotionally drawn into a game and find out what I'm talking about, and what makes a game truly memorable.
Also if you haven't played Skyrim yet, go play that too. It's pretty damn awesome.
Enjoy Dragon Age.
Enjoy Skyrim.
Enjoy your life.